Dental Implants

Green Bay, WI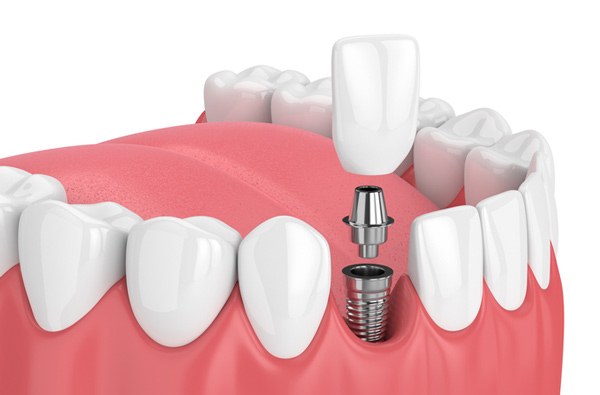 Teeth can be lost for a variety of reasons, including facial trauma and chronic periodontitis. The loss of teeth can cause changes in your diet, changes in your speech, and an imbalance in your function. What many patients may not be aware of are some of the disorders that can occur due to missing teeth including bone loss and changes to your bite. At Bay Lakes Center for Complex Dentistry, we can do more than replace missing teeth, we can completely rebuild the structure with the surgical placement of a dental implant. Implants can provide solutions for a single missing tooth or multiple missing teeth, in a row or scattered. Dental implants can even retain a whole arch of teeth. We are excited to show you what a difference implants can make.


What Exactly Are Dental Implants?

A dental implant combines the concept of a firm post and our amazing bone. Scientists long ago observed evidence of human attempts at replacing teeth in anthropological study, and what amazed them is our body's ability to heal around devices. In a process we now call osseointegration, our bone will naturally grow around a device and incorporate it in. Studies were conducted to find a material that was both biocompatible and strong. Titanium metal was found to be ideal for dental implants and recently we've added ceramic implants for those with metal sensitivities or when patients are concerned about the dark metal showing through their gums.

Today, we now have decades of data to show how successful dental implants can be. We use dental implants to restore missing tooth roots and can then place a dental crown, bridge or even a denture on the implants for a permanent hold.


Restoring Missing Teeth

Dental implants are a firm post set directly into your jaw bone. Once healed, the post is incredibly versatile. We now have implant solutions to fit a wide variety of needs. Some options with dental implants include:

| | |
| --- | --- |
| • | Single Tooth Restoration: A dental implant can be used to restore a single tooth. Once the post is secured, we can cover the implant with a dental crown. This provides a fully restored tooth that is good for your bone health and doesn't rely on the neighboring teeth for support. |
| • | Multiple Tooth Restoration: Dental implants can be used for multiple single replacements, or for supporting a dental bridge. A dental bridge uses anchors to hold it in place. An anchor can be a healthy tooth or a dental implant, in any combination. |
| • | Full Arch Restoration: Dental implants can be used to retain your denture in place. This means that your denture won't rock, or come loose, it will stay put. Dental implants can be used with a variety of denture solutions. We can discuss bar retained dentures or ball retained dentures which allow for a firm hold while still being removable when needed. We can also discuss the All-on-4® Treatment Concept which permanently retains your denture and is not removable nor does it require a bone graft. |
Dental Implant Procedure

The placement of a dental implant is a minimally invasive procedure. Much of the work is done in preparation before surgery takes place. We may need to bulk up your bone through a simple bone graft, we may need to get gum disease under control, and we may need to take steps to increase your ability to heal. The ability to heal appropriately is the biggest criteria when determining candidacy. This includes controlling diabetes, discussing medications you are currently taking, and not smoking tobacco for a period of time as smoking can slow the healing process.

With all of the preparations in place, the surgery itself is completed in one day, often with just a local anesthetic. We will open the tissue, create the space needed in the bone and set the implant in place. The tissue is then sutured closed. The implant resembles a screw in size and shape, and like a screw, it's length and width can vary depending on the work being done. The implant has a threaded end that is placed in the bone and then a head designed to work with the prosthetic being used. The real work is in the healing. As your bone heals, it will grow around the threaded portion of the implant, fusing the two together.


Contact Us

With dental implants, we can restore the functions of your missing teeth and the quality of your smile while also helping to protect the health and shape of your jawbone. For more information, and to find out if you're a candidate for dental implants, call Bay Lakes Center for Complex Dentistry at (920) 278-7678 today.